I would love to stick my tongue deep in that wet pussy to get a taste and then slap that clit with my fat headed cock to tease you.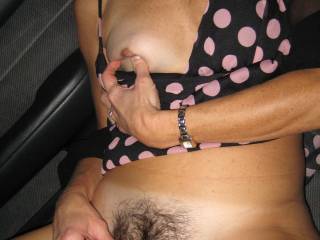 After pulling your hair and fucking your naughty pussy for a while I'd move around in front of you take hold of both your hands and interlace our fingers together. With both of our hands laced together, your palms on the back of my hands, bundle up your hair in a ponytail and manipulate your mouth up and down just putting my cock head in your open mouth at first. Pull my cock out tell you "Spit on my cock, now stick your tongue out as far as you can" Flexing my muscle so my cock bounces slapping my cock up and down on your tongue and slide it all around so your spit covers the length of my cock, once its covered put it back in your mouth, but this time its going all the way in and down your fucking throat. I'd tell you "Come on you naughty girl suck my cock like you mean it" 
In about 30 or 40 mins when I'm ready to cum, pull my cock out and spray paint your face and tits, but save the last squirt for your mouth, put it back in your mouth and tell you "good girl now suck the last drop out of my still stiff cock" Hot hot hot! What a suckable juicy wet pussy you have! Love 2b rubbing my big cock head all over your hard clit & sliding it in and out your dripping wet slit! Xxxx very hot n horny babe! Xxx. I just love the swollen, large lips.So slutty! Give me that nipple!.I want to slide my big cock thru that wet gash.Gorgeous! Omg damn thats a really nice wet hairy sexy pussy, damn i wanna taste it and really fuck it so hard and deep! My dick is so hard! Wanna watch you play while am driving the car an slowly wank off at the same time, then get you to suck me as am about to explode xx.